Everyone has their own ideas and definitions on what a story is.
What does "subtext" actually mean?

Which structural method is best?

How do you "subvert" audience expectations?

What does "characterization" actually mean?
No one is speaking the same story language.
Screenwriters are
ALONE

.
You can't find helpful feedback.

You have no writers you can trust to collaborate on your script.

No one energizes you to keep writing or holds you accountable.

Which means most of your screenplays never even make it to a first draft.
SO WE
CHANGED IT

. Here's How...
Our Mission:
Unite Screenwriters Under One Story Language to Help You Develop Your Great Screenplay
Welcome to the
TOP DEVELOPMENT
TRIBE
Story Framework
This Framework allows you to clearly build your great screenplay.
Screenwriter Tribe
The Tribe allows you to speak to other screenwriters who are viewing story through the TOP Development Story Framework alongside you.
Weekly Coaching Calls
Here you can speak directly to the TOP Development team about your screenplay. We will solve problems, give ideas, and deepen your understanding of story.
Listen to Some of the Writers We've Helped!
Paul K.
"In comparison to where the script was… it's a 360. It's currently out now being read by producers. I highly recommend it. It's worth every penny."
Gurnir S.
"The feedback he gives is so crucial I would 100% recommend it. I would've paid 5 times what it costs."
Ariel S.
"I had the privilege of working with Tyler on a script and I have to say it was one of the best investments that I could've done."
Norman W.
"All I can say is without a shadow of a doubt I'm walking away with a screenplay that is 1000 times better than what I had. Working with Tyler has been the single best investment that I've made personally."
The TOP Development Story Framework
One Unified Language of Story
Watch this video to understand how we built this Story Framework
Inside the Course You Get...
1) Story Framework Course
2) Film Example Vault
3) Story Outline Template
4) Milanote Board Story Framework Example
TOP Development Story Framework Course
Top-down clear process to create your story, weaving together topics like:
Thematic Argument, Philosophical Conflict, Characters & Character Web, Concept & Iconic Scenes, Story Circle Structure, Midpoint, Climax, Character Arcs, Pinch Points, Setups & Payoffs, Drafting, Polishing, and much more!
The result of this is that you will have a clear process for creating the best version of the story you want to tell without writing 10 painful drafts to get there.
Film Example Vault
The film examples will allow you to see how other well written films work within the Story Framework, and they can be used to deepen your understanding of your story, as well as giving you more ideas to make your script better.
Story Framework Template
Rather than rewriting your script over and over, you can build a clear understanding of your story before you write, and have your work checked in the group coaching calls.
This took me over 3 years to develop. And it will be your guiding tool to keep your story on the right track.
Milanote Board Example to build Story Framework
Milanote allows you to draw, leave notes, and collaborate with others to build the story. This lets you work even faster as a group.
This Framework Fixed These Writers Scripts!
Rodney C.
"As someone who has written many screenplays and has been in the industry for some years, Tyler's approach was invaluable."
Ricky A.
"This was probably the best investment I've ever made in myself as a writer for sure. If you're entertaining the idea of doing this, do it. It's a worthy investment."
Jag G.
"I've spent so much money on courses and classes and coverage, but this is the one thing that I wish I had done at the beginning."
Carly S.
"I just came out the other side of this course, and I feel like I have experienced a huge jump in my writing. Not just with my draft, but with my writing as a whole."
Do I hold the rights to my screenplay?
Do I get ongoing access to the Framework and Tribe? Or is it just for a period of time?
What about beat sheets and tools that already exist?
My story is very unique. Will this work for a nontraditional story?
Will this make my story just another paint-by-numbers Hero's Journey?
Weekly Group Coaching Calls
Weekly Calls:
Call 1: Analyze current film within the Story Framework
Call 2: Build a new screenplay using the Story Framework
Call 3: Story Q&A
Now you will be able to ask questions directly to the Top Development team so we can check your work, you can find collaborators, and be motivated to get your screenplay finished.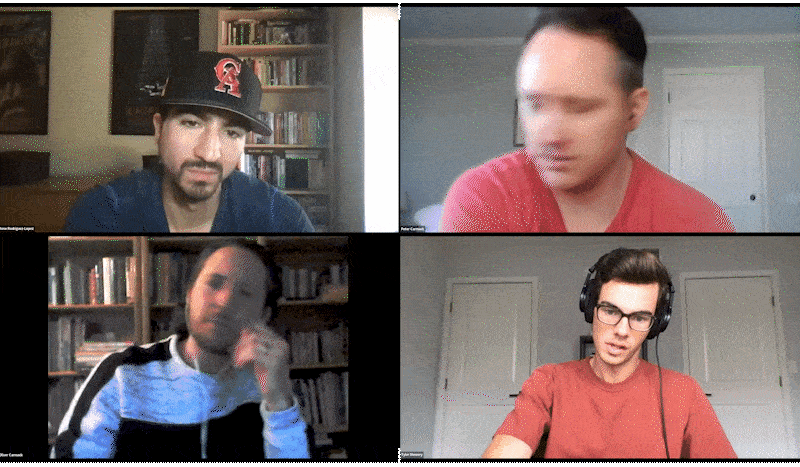 Find Collaborators
This Tribe allows you to find collaborators who can write alongside you or give you feedback on your screenplay. And now you will use terms and concepts both of you understand. You can get rid of messy, unclear feedback.
Accountability Spreadsheet
When you publicly commit to a deadline, rather than giving up on page 30, you can push through and finish your draft while other members in the Tribe hold you accountable.
Listen to Some of the Writers we've Helped!
Alex S.
"Tyler will share an enthusiasm for your story. The story YOU want to tell. He'll tell you what's right. He'll tell you most importantly what's wrong with it. I can't recommend him highly enough."
Chris S.
"If you're a little bit on the fence on whether or not you should do coaching with Tyler Mowery, I give him my stamp of approval. Take the leap!"
Ross J.
"I'll be honest, I was dubious. I've heard people talk a really good talk before to me. But actions speak louder than words. He's amazing. He takes your outline and he can see where the weaknesses and strengths are."
AJ C.
"I recommend him to anyone who is serious about the craft of screenwriting. He is a wonderful teacher and super patient, but really thorough and honest."